This is the story of how cutting-edge artificial intelligence techniques can reduce and prevent crime, in an area plagued with constant incidents of violence.
I created the WatchBot A.I. software to run people-detection on live camera feeds, and alert to user's phones using Telegram. The system has been operating in production in Cape Town, since 2018, and in this time has been used to apprehend many suspects both before and after actual crimes were committed.
The application, written in Go, runs at the edge using a Raspberry Pi device. The inference is handled by an Intel Movidius Neural Compute Stick.
Crime and privacy in South Africa
South Africa has one of the highest homicide rates in the world, roughly 36 per 100,000 people compared with an international average of 7. In the global rankings, this places the country in the top 10 most dangerous places, similar to declared war zones.
Cape Town was ranked as the 8th most violent city in the world in 2020.
Here is a map of crimes reported to the local neighbourhood watch in the suburb of Vredehoek, Cape Town, for the single month of May 2020. There is nothing special about this month, this is par for course. Data is public on the website:
Each dot represents a crime incident, and the colours are the type of crime committed:
Yellow - House breaking and entering
Red - Muggings
Green - Theft of vehicles
Blue - Theft out of vehicles
As you can tell by the map zoom level, this is not a large area - it's just under 100 hectare, or 0.94 km2 (0.36 sq mi). Living in a neighbourhood with this level of crime is an eye-opener. All around you, people are living in fear of the worst. The police and private security are overwhelmed and powerless to stop it. The responsibility for safety and protection falls to local community groups.
The most feared attacks are the housebreaking crimes, shown as yellow dots on the map. Normally occurring at night, a suspect will enter a victim's home and confrontation can lead to violence. Here are a random sample of 4 reports of housebreaking, that occurred in my street only, which has around 30 houses: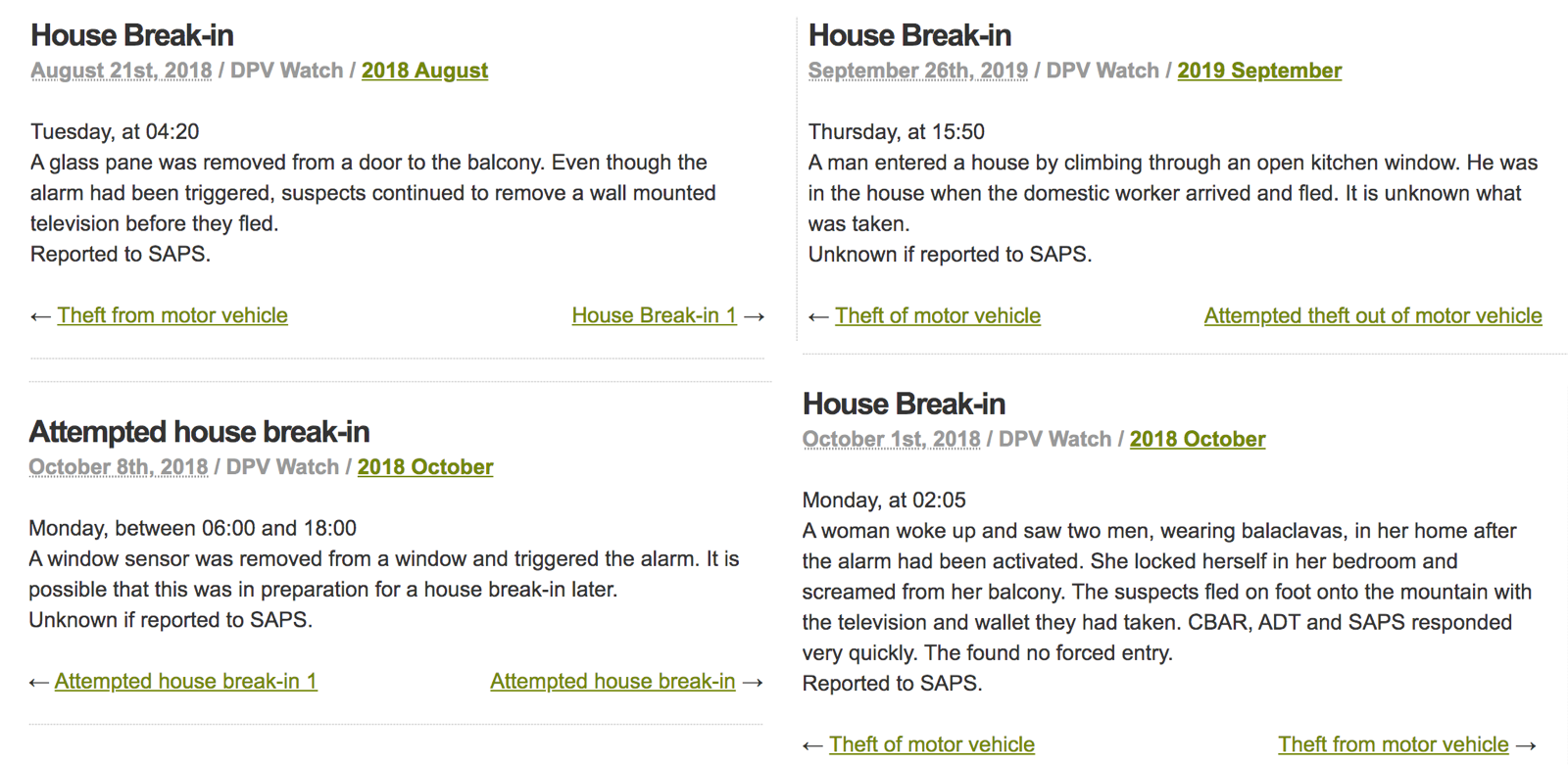 I'm deliberately going to great lengths to set the scene here, as a prelude to introducing the WatchBot project. This is no ordinary neighbourhood. Understanding what's at stake, helps explain why our street group would enthusiastically support and fund a surveillance system.
WatchBot
In response to this crime epidemic, our street came together to install cameras at key points in the crescent. These cameras are individually owned and operated, so the recorded footage is held on the respective camera's DVR.
Here is what the alert looks like when it comes through Telegram:
This is video footage of suspected thieves attempting to open car doors, as seen by the algorithm running the model. Think of it like a debugging view, it's what the AI is picking up in real-time in the video scene:
Icon made by Freepik from Flaticon